T

rauma-Informed and Trauma-Specialized Treatment Trainings ~ Healing life's hurts and hearts with awareness, compassion, and integration

If you are ready to become trauma-informed or enhance your trauma treatment the Attachment and Trauma Treatment Centre for Healing (ATTCH) offers trauma Integration trainings and certification to meet your needs. Join us to learn leading edge approaches to treating complex trauma and promoting post-traumatic growth. ATTCH provides current, quality trauma and attachment training Internationally for individuals, clinicians, and organizations and trauma-integration training in our Integrative Trauma and Attachment Treatment Model (ITATM)® and Integrative Trauma and Attachment Treatment Model (ITATM-A) Adapted Non-Clinical Stream®. Our program is quite comprehensive and holistic in nature focusing on mind-body neuroscience and somatic approaches.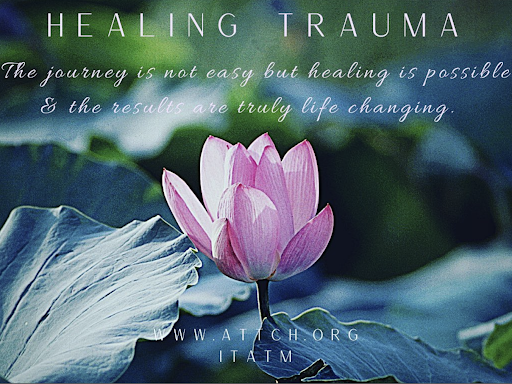 Healing from trauma is not an easy process but it does not have to be an overwhelming one. We witness tremendous growth, self-discovery, empowerment and authenticity all the time. Working through trauma in a safe structured way leads to a greater sense of empowerment and a greater connection to our embodied and true selves. People are often afraid to do this work but that is the amygdala / fear looping process kicking in. Whatever has occurred has already occurred, they have already survived it - their brain and body just does not fully understand this! We work in an integrative manner to de-potentiate the charge associated with past memories, increase integration and memory consolidation in proper space and time (in the past), and focus on learning to connect with emotions and body sensations in a way that is no longer overwhelming. Although it is hard work, it is possible and the results are truly life changing.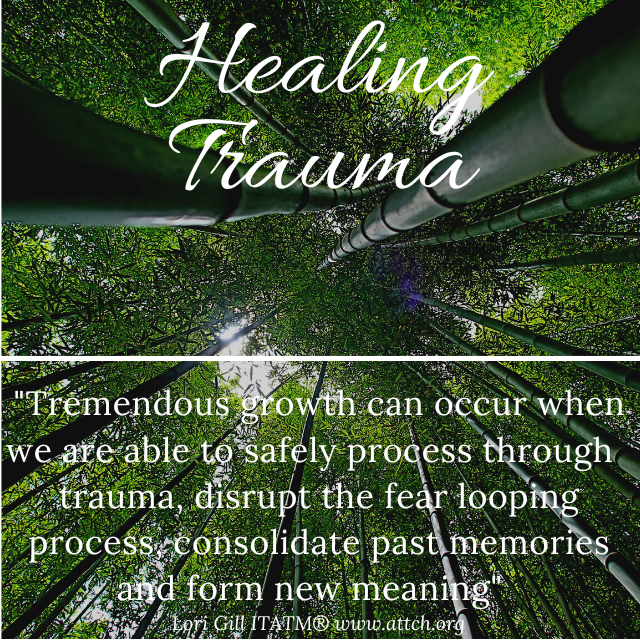 Integrative Trauma and Attachment Treatment Model
Healing the Whole Person
The Integrative Trauma and Attachment Model (ITATM) ® is a layered / integrative model that incorporates multiple modalities and layers to regulate the body, brain and mind simultaneously.

This model provides a safe structured way to work through trauma by de-potentiating the fear looping process, regulating the nervous system, and promoting integration in a manner that seems to consolidate the memory in proper space and time. It is a rich integrative approach with components of sensory processing, somatic therapy, resource installation, bilateral stimulation, sensory regulation work and cognitive reframing.


ITATM is not a talk therapy model. Research has helped us to understand that trauma and extreme stress states decrease integration in the brain, body and nervous system whereas positive states increase integration. Brain images have demonstrated that when recalling trauma the right hemisphere (centrally involved in our senses, emotional felt state, and embodied awareness) is active and busy at work whereas left hemisphere (centrally involved in reflection, meaning making, and also where are speech centres are) demonstrates little to no activity and is largely offline. This is part of why we often can't talk about what happened.


This model is specifically designed to help people move through their trauma experiences in a safe, structured way. Therapists are trained to focus on present trauma experiences, while also treating the underlying experiences that may be amplifying present day experiences.
Because our model is integrative we layer in lots of activities which promote regulation of the brain 🧠 mind 💭 and body 🧘🏽‍♂️simultaneously to bring about healing in a deeply visceral and largely subconscious level. We utilize the window of tolerance approach to promote emotional regulation while working through trauma-experiences in a safe structured manner providing reparative and corrective experiences for the brain, body and nervous system. #ITATM #traumatherapy #CTIC #CTIP#traumacertification www.attch.org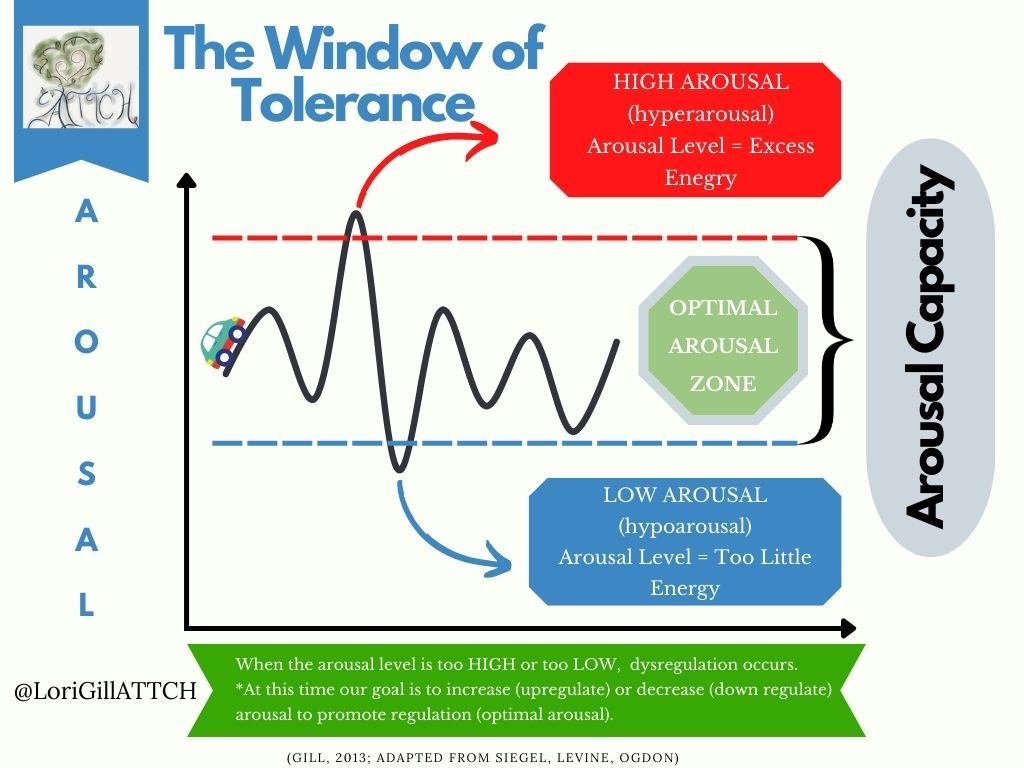 Engaging the Brain and Mind
Our brain is such a tremendous resource, however as brilliant as it is it also becomes stuck in scanning for threat. I often describe that it is so good at scanning for threat but it needs a little help to know when the threat has passed. Part of our work is helping to disrupt the fear lopping process by working through the trauma in a safe structured way. After we depotenitate the trauma we can then focus on integrating past experiences while remaining anchored int the present. It is amazing to see the shifts that can occur in only one session!
Engaging the Heart
Did you know the heart sends more messages to the brain than the brain sends to the heart? The heart is a powerful component of our emotional experience. Our model helps to attune to what was needed at the time in a powerful and heart-centred manner. One of our participants recently described our model as a self-compassion focused model - I love this description! Visualization crosses the bounds of time and the confines of what actually happened. Our brain does not differentiate between something actually happening or us creating or visualizing this. Which is why the sis such a powerful part of the process.
Engaging the Body - Becoming Embodied in the present moment
Trauma drastically disrupts our ability to be embodied and feel our emotions, often because it is not safe for us to do so. Our model helps people to re-connect with their bodies in a safe, structured manner processing and unlinking the needs of the past while anchored in the present. Our model focuses on helping to unlink formed associations and forming new meaning in response to past experiences. ITATM also has a deeply experienced impact on the body with shifts that are often visibly observable. it is incredible to see the deeply visceral and energetic changes that occur when we are able to tend to the body, mind, nervous system, and brain in an integrated manner. It truly is such an honour to witness the healing that can occur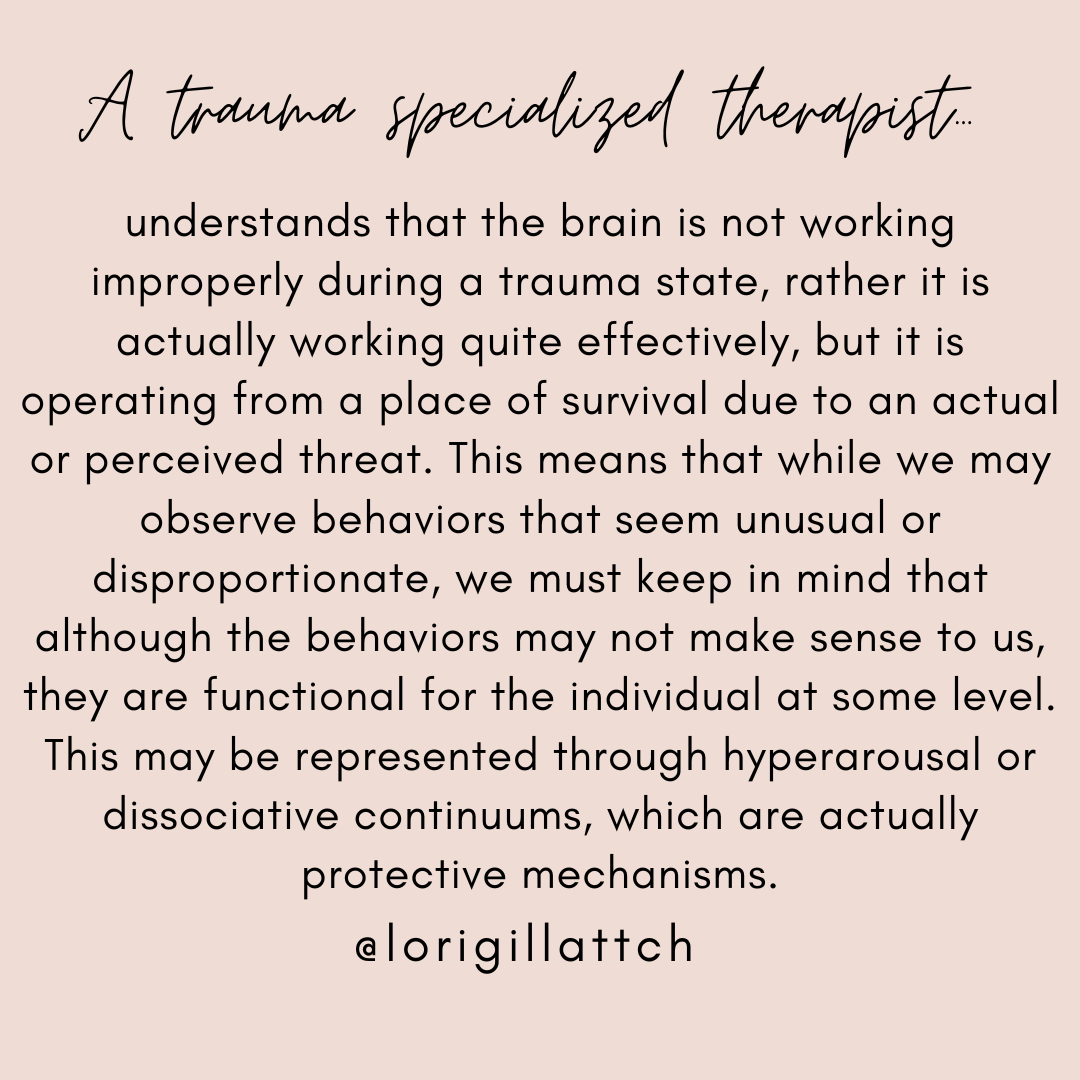 Consultation:
The ability to remain present and attuned to our clients at a right-brain to right-brain level is a powerful therapeutic skill. However, the ability to consistently do so stems from our own wellness. Consultation is a process that allows for growth, awareness, attunement, and space needed to be intentional and mindful in our day-to-day work. ATTCH provides clinical supervision and case consultation services to a wide variety of professionals Internationally. These services are available in-person or remotely (via Zoom).

Supervision with ATTCH allows for application of trauma-informed practice that incorporates a wide variety of research-informed techniques and approaches to help promote therapeutic presence, regulation, authenticity, empowerment, and healing of the helper as well as those they are working with through informing their approach.
Meet the instructor
Lori Gill Bio
Lori Gill, Founder and Clinical Director at the Attachment and Trauma Treatment Centre for Healing (ATTCH), Attachment and Trauma Treatment Centre for Healing (ATTCH) Niagara, and Lori Gill Psychotherapy. Lori is a Registered Psychotherapist, Certified Trauma Specialist (CTS), Trainer, and Consultant Supervisor for STARR Commonwealth (formerly the National Institute for Trauma and Loss in Children), a member of the Complex Trauma Treatment Affiliates Program (CTTA), and a member of the American Psychological Association (APA) Trauma Division. Lori is a former psychology professor with 18+ years of experience working with children, youth, and adults in various professional settings. Her diverse background has provided her a wealth of skills in the areas of trauma, attachment, mental health, compassion fatigue prevention, addictions, eating disorders, wellness and education.

Lori combines her professional experience with her love for learning resulting in trainings which are a rich culmination of research, evidence-based and best-practice treatment models, and techniques to bring you leading edge, practical, and integrative trainings.

Lori is the creator of the Integrative Trauma and Attachment Treatment Model (ITATM)® Our Integrative Trauma and Attachment Model is a layered / integrative model that incorporates multiple modalities and layers to regulate the body, brain and mind simultaneously. It is a rich integrative approach with components of sensory processing, somatic therapies, CBT, resource installation, bilateral stimulation and sensory regulation work to name a few components. You can learn more about feedback on our website https://www.attachment-and-trauma-treatment-centre-for-healing.com/what-people-are-saying-about-our-certification-trainings.html or facebook page (under reviews) https://www.facebook.com/AttachmentandTraumaTreatmentCentreforHealing/?ref=hl.

Lori is honoured to have received an Award of Excellence in 2014 for her contributions to the trauma field and to have been named as an expert witness in the areas of trauma, attachment, and reconciliation therapy.

Lori is an engaging and sought after presenter and consultant. She provides consultations and facilitates a variety of trainings Internationally helping agencies and professionals become trauma-informed and to deliver trauma-specific treatment.

Contact us today trainings@attch.org to discuss your needs and to set up a customized training for your community or organization.

Follow Lori on Social Media: https://smart.bio/lorigillattch